The New Science Teacher Webinar On Demand
Tips and Tricks to Thrive in the Classroom.
Join us for what amounts to a Free Survival Guide that prepares you for the trenches in K-8 Science with Marygrove College Master in the Art of Teaching's Charles Pearson, Ph.D.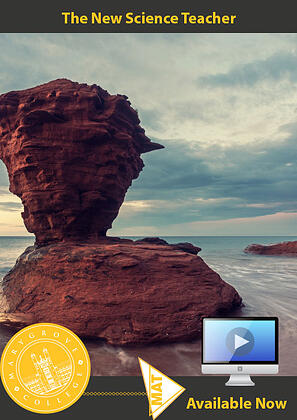 Do you have the skill set to be an effective science teacher? Dr. Pearson says every teacher does, it's just a matter of capitalizing on your strengths. He'll walk you through some fundamental ways to ensure that you're giving all you can to your students, and getting the support you need to deliver confident, competent science instruction.
Dr. Charles (Chuck) Pearson is no stranger to the classroom. His 30-plus years in education include a nine year stint as a principal, and almost two decades in the K-8 classroom. As a former middle school science teacher, Dr. Pearson knows all the angles to get students energized and interested in science studies. He is joined by colleague Haley Hart, a science teacher from an urban high school in Detroit who established a successful extracurricular science, technology, engineering and mathematics (STEM) club for students.
They'll show you how:
Networking with colleagues is critical to your success
Setting up a management system for materials is imperative for organization and safety
Preparing a file for substitute teachers is important to keep quality science instruction in play
To be effective even with the most limited resources
Complete the form on the right to view this webinar now.
If your new assignment for fall happens to be in science or you're finding yourself lost in the ever-changing science curriculum standards, this webinar is for you. We'll give you some practical advice that can help you take a deep breath and dive into an area that is truly fascinating—and fun to teach. All it takes is a little organization and creativity.
Our Panelists
Dr. Charles (Chuck) Pearson is the Coordinator for the Marygrove Master in the Art of Teaching (MAT) Curriculum, Instruction and Assessment Program. Retired from K-12 in 2011, Dr. Pearson brings his 30-plus years of classroom and leadership experience to the MAT program, and is looking forward to helping teachers raise student achievement through practical research-based outcomes.
Dr. Pearson earned his Doctorate in Educational Leadership, Cognate in K-12 Superintendency from Western Michigan University. He has several publications in K-12 science to his credit, including multiple presentations for the National Science Teachers Association Annual Conferences around the country. He is a former National Board Member of the National Science Teachers Association Publication Committee and was elected to the state board of the Michigan Science Teachers Association, 1985-92. He is a Field Mentor to eight school leadership teams in urban K-12 schools in Michigan.
A father of two adult sons, Chuck is from western Michigan and enjoys walking, cycling, reading and remodeling.
Haley E. Hart is a second year chemistry teacher at Detroit Public Schools Southeastern High School. She is a member of the teaching corps of Teach For America and is pursuing her State of Michigan Teacher Certification from the University of Michigan. She earned her B.A. in biology from Transylvania University in Lexington, Kentucky.
Haley was a varsity soccer player in college, and loves camping, cycling and canoeing.